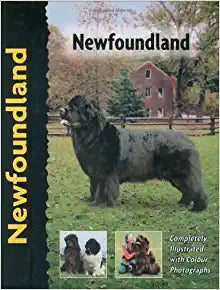 Newfoundland (Pet Love) - hardcover
Sale price
$13.95 USD
Regular price
Massive, noble and majestic, the Newfoundland possesses an instinctive desire to bond with humankind, sprouting from his instincts as a water rescuer. The seafaring "gentle giant" remains close by man's side as a helper and companion both on land and in the water. As the breed's colorful history relays, the Newfoundland has excelled as a fisherman's helper, a water lifesaver, a canine postman, a draft and carting dog, a show dog and on and on! For the owner requiring a biddable companion dog, whose devotion and friendship with man are unsurpassed, the Newfoundland is an ideal choice.
This new colorful book provides everything an owner needs to know about the Newfoundland and its ancestry, character and standard, as well as puppy selection, feeding, grooming, basic obedience and housebreaking. The author also discusses various activities in which the Newfoundland excels, including water tests, agility trials and dog shows. Illustrated with over 135 color photographs, this comprehensive owner's guide will be relied upon consistently for its coverage of health concerns, allergies, parasite control, senior-dog care and more!
Hardcover. 2001. 160 pages. Excellent condition.